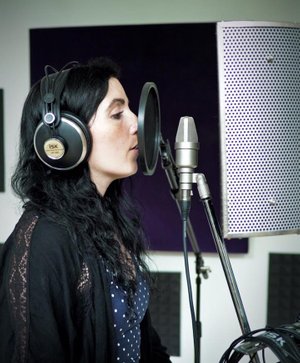 Monique Angele is a unique emerging Canadian singer-songwriter currently based in Australia.
Her self-titled debut EP blends both classical and pop elements in a style that exhibits both pianistic finesse and soaring vocals.
Her songs range from instrumental complexity and virtuosic vocals to simple and refined moments of bliss. Whether it be about heartbreak, seduction, anger, or lighthearted themes, she delivers honest emotions to the listener.
Her second EP, "Answers" is a natural progression from her first self-titled EP, featuring thick harmonies and a wider range of instrumental accompaniment.
The title track and lead single, "Answers", is a slow-building epic that brings the listener from a simple piano melody to a extravagant climax and back again.
Her new album will be released in 2018. This hotly anticipated album features a mix of modern pop, classical and soul elements and consisting of a wide range of lyrical
content - love, self-reflection, hope, human rights.
Watch out for this album, it's definitely her best material yet!
We booked Monique Angele to perform alongside other artists at one of London's most prominent music venues The Bedford in Balham.