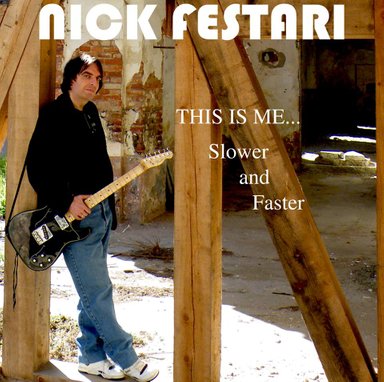 Nick has already made a name for himself on the Euro Dance scene and, more significantly, in Japan, where bands and singers have performed songs written by him.
Now he has turned his musical magic to Pop, releasing his debut EP This Is Me Slower and Faster.
Nick writes, sings and performs on all six tracks on the genre-busting EP, placing romantic ballads alongside edgier, Punk-Rock tinged tracks.
Nick's EP - This Is Me Slower and Faster was released on July 27 and is available via iTunes -
Track Listing
1. You Wanna Make Me Fly (I Know You Belong To A Dream) . 2. Wings Of An Angel
3. The Song I Wrote For You
4. Don't Throw The Dice
5. There Will Be No Prize
6. Don't Slam The Radio
Nick wrote the lyrics, sang, composed, performed and produced all the music on the six tracks on the EP.
FIND OUT MORE
The promotion of Nick Festari's debut EP is our biggest campaign to date and features extensive and has not only resulted in a airplay on Internet Radio Stations and also reviews on numerous Blogs/Music Websites as illustrated by the links below.